January: US Auto Industry Accelerates, Toyota Hits Brakes
Manufacturers have reported new vehicle sales for January and the majority of brands have fared much better than they did during the same time last year. The only major exception has been Toyota who suffered during the month with a massive recall and halted sales on many of its most successful models.
Last month, sales of cars and light trucks jumped 6% from the sale time in 2009 due in part to the increase in sales to fleets and commercial buyers paired with a strong demand for newly designed market entrants. On a group level the biggest gains came from Ford Motor Co. (24.6%), Nissan North America (16.1%), General Motors (13.6%) and BMW Group (5.8%).
From the single-brand perspective the biggest winners were Mercedes-Benz (45.3%), Buick (44.4%), Volvo (41.9%), Volkswagen (41.4%), Audi (37.9%), and Chevrolet (36.4%). On the other end of the spectrum, the biggest losers were Pontiac (-95.7%), Saturn (-90.9%), Smart (-84.4%), Hummer (-78.3%) and Saab (-46.5%) with Smart being notable for being the only brand at the bottom that was not directly on the chopping block at some point during the past year.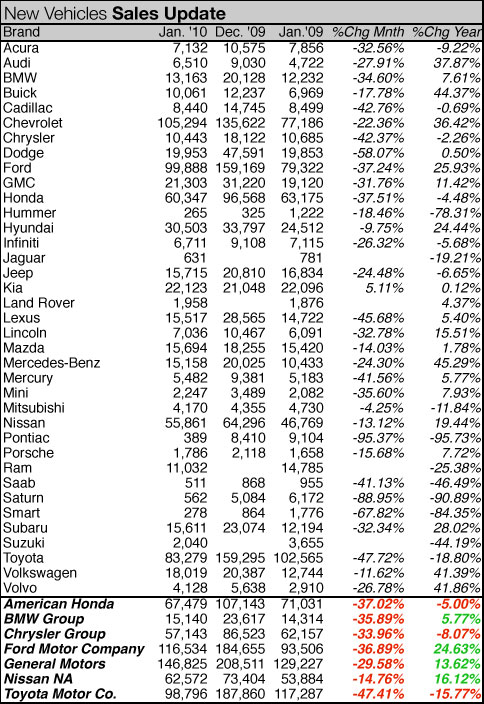 The real news sponge has been debacle with Toyota's recalls and it's pending hearings by the U.S. House. Millions of cars around the world have been recalled as the result of safety concerns with faulty accelerator functions. Many reports confirm a mechanical failure from the part supplier, but other reports are now suggesting there may be an electrical system component to supplement the headache for Toyota. Sales for the year were down 16% overall for the corporation, but the Toyota brand has taken the blunt of the pain while Lexus and Scion have dodged the bullet – at least during the first stages.
Seasonal variations distort the picture with December sales often bloated by year-end incentives and January being a typically weak month. Automakers expected a rebound over last years slump and they received such a gift in the form of fleet sales. Rental companies and commercial consumers purchased vehicles to update their stables. General Motors and Ford were the lucky recipients of triple-digit increases in this area with 225% and 154% bumps, respectively. Not only do these transactions directly help the manufacturers that focus on fleet vehicles, but they also indicate an undercurrent in the health of the economy. Corporations and leisure-related businesses are beginning to invest in their products and capital, which are often early economic indicators of growth.