Automotive Consumer Electronics
The Consumer Electronics Show was interesting this year. Several things stood out on the show floor. First off, there was a significant "in-vehicle technology" section in the show.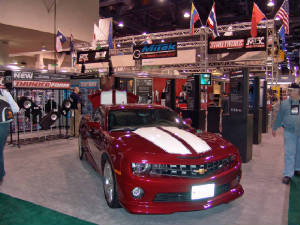 With nearly 150 exhibitors, the section was quite noticeable, even with Microsoft's automotive display being in another hall. There was everything from the standard automotive sound system components, to mobile TV devices, to products that connect a vehicle to networks, and things that help the driver operate more safely.
Secondly, Microsoft is definitely after the automotive market. For a long time now, the design cycle for automobiles had been exceedingly longer than that of mobile electronics. As a result many new vehicles have been introduced without the latest and greatest innovations. Microsoft wants to be a part of the solution to that problem.
Two car makers made major announcements involving Microsoft in their vehicles.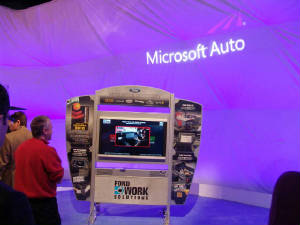 Ford that announced the new MyFord TouchTM driver connect technology, which blends interfaces in consumer electronics such as MP3 players and mobile phones, with a new generation of Ford's SYNC® system.
The second generation of SYNC has been built using the latest technology from the Windows Embedded Business at Microsoft. By employing a Media Hub for interfacing with external devices and media, Ford has helped ensure compatibility with future innovations.
MyFord, which will be branded as MyLincoln Touch and MyMercury Touch on respective Lincoln and Mercury brand products, redesigns the in-car interface, mirroring how consumers interact with most devices in their lives using touch-sensitive buttons, touch screens, thumb-wheel controls and voice recognition.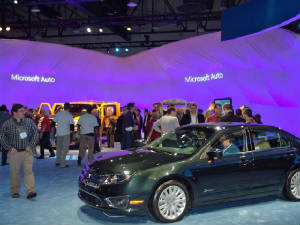 The other car company was Kia that unveiled a Microsoft powered system called UVO. UVO is an interactive, consumer friendly voice- and touch-activated system for simple management of music files and hands-free mobile phone operation.
Third, attendance was good. According to CEA, by the end of the second day attendance had surpassed the 2009 mark by more than 4,000. They are reporting that 112,515 attendees had already shown up. They know the exact figures because they give out badge holders at the show and the numbers are audited. The numbers are interesting considering how tough the economy has been the last couple of years. Plus many of the folks we spoke to seemed upbeat about how 2010 is starting. Let's hope they are correct and 2010 turns out to be a very positive year for business.