Love of Muscle Cars Still Alive
NADAguides.com, recently announced the Top Five Most Researched Cars. Number one was the 2010 Chevrolet Camaro.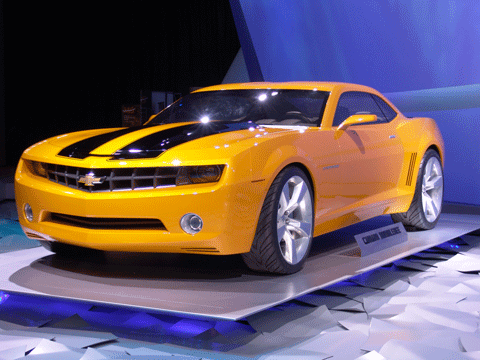 Although many automakers have used the LA and Detroit Auto Shows as their platform to debut small and more fuel-efficient vehicles, consumer data, based on model research volume within each brand, shows the highest consumer interest is in vehicles from Chevrolet, Lexus, Nissan and Honda. The Chevy Camaro, a muscle car favorite, led the way in most of 2009 and into the first weeks of 2010 as being the most researched vehicle on NADAguides.com.

"Although electric, hybrid and small cars are being showcased in Detroit this week, the patterns we are seeing from consumers show a desire for affordable and efficient vehicles that offer substantial performance, upscale amenities and impressive technology," said Mike Caudill, spokesperson for NADAguides.com. "This most recent data not only identifies the top cars consumers are most interested in, but also provides automakers with a clear roadmap of what consumers are looking to buy. One aspect that may also surprise critics is that despite the demand for small, fuel efficient hybrids, muscle cars, while a small part of the market, sold relatively well last year and continue to pique consumer interest."

NADAguides.com's Top Five Most Researched Cars :
1. 2010 Chevrolet Camaro
2. 2009 Lexus ES350
3. 2009 Nissan Altima
4. 2009 Honda Accord
5. 2010 Lexus RX 350

Much to the chagrin of economists, the passion of the 1960s-style muscle car is still alive and well with the 2010 Chevrolet Camaro topping the NADAguides.com list. GM sold more than 60,000 Camaros in 2009.

The really good thing is industry manufacturers are already offering products to go along with the American love for the modern muscle car. At the recent Media Trade Conference, there were many announcements of new products for these vehicles. Here is a sample:

• ACT RELEASES SFI APPROVED XTREME TWINDISC CLUTCH KITS FOR 4.6L FORD MUSTANGS (SOHC & DOHC 6 OR 8 BOLT CRANK)
• ACT RELEASES SFI APPROVED XTREME TWINDISC CLUTCH KITS FOR THE GM LS1, LS2, LS3, AND LS7 APPLICATIONS
• AIRAID introduces Extreme Mustang GT Performance Intake
• AIRAID offers 2010 Chevrolet Camaro 6.2L V-8 Throttle Body Spacer
• Cherry Bomb Offerings for Late Model Mustang
• CORSA PERFORMANCE EXHAUSTS INTRODUCES 2010 FORD MUSTANG GT, GT500 EXHAUST SYSTEMS
• 2010 CAMARO EXHAUST SYSTEM AVAILABLE FROM CORSA PERFORMANCE
New Premium Exhaust for Camaro SS 6.2L Eliminates Drone during Cruise
• 2010 CAMARO OWNERS CAN ENJOY ADDED POWER, SOUND AND LOOKS WITH THE LATEST DYNOMAX EXHAUST SYSTEM
• DYNOMAX® OFFERS PERFORMANCE EXHUAST OPTIONS FOR 2010 MUSTANG PLUS NEW SYSTEM FOR 05-09 GT MODELS
• FIDANZA ADDS CLUTCHES, FLYWHEELS FOR 2010 FORD MUSTANG GT, GT500
• FIDANZA INTRODUCES 2010 CHEVY CAMARO 6.2L V8 TWIN-DISC CLUTCHES
• PERFECT CalTool EFI TUNING Packages for LS2, LS3 & LS7 from Painless Performance
• 2010 CAMARO HYDRAULIC RELEASE BEARING from Ram Clutch
• BOLT-ON POWER FOR THE 2010 CAMARO New Spectre hpR Cold Air Intake for the 2010
Camaro SS & RS is a fast, Easy way to add horsepower and torque across the powerband
Entry-level luxury sedans are also hitting the mark with consumers. The impressive Lexus ES350 landed in the second position and the practicality and reliability of the 2009 Nissan Altima placed it in third. The 2009 Honda Accord and Lexus RX 350 round out the top five proving that although small cars, electrics and hybrids are becoming more prevalent these days, consumers are still more interested in performance, refined amenities, and overall reliability.

Source: NADAguides.com, Fast Lane Research