Nearly 25% of Hot Rodders Own 5 or More Vehicles
Most automotive enthusiasts rarely settle on a single vehicle to satiate their hobby. In fact, many of them build collections over time, store multiple unfinished projects throughout their property, invest in sizeable collections or simply obtain a few copies of imperfect examples to patch together for a single restoration. In basic terms, hobbyists are prone to allocate their resources into many vehicles, not just one.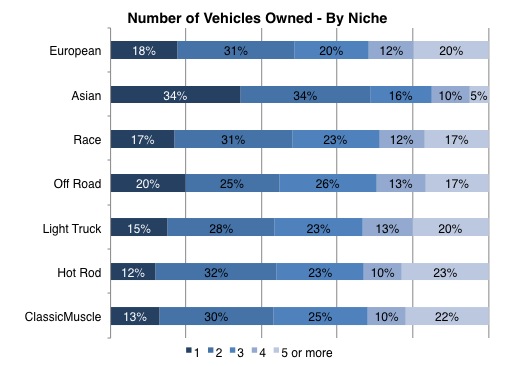 In the United States most institutions peg the vehicle number per capita around 0.7-0.8, with households averaging 2.2-2.3 vehicles per family. Die-hard enthusiasts, on-the-other-hand do not mimic the characteristics of the typical consumer and their consumption is much higher. One caveat of this comparison is that some enthusiasts do not have vehicles, so the overall chart would look slightly different if those few were factored in. For this study only vehicle-owners were included.
When illustrated by market niche, the difference in vehicle ownership between the various groups does not indicate many significant discrepancies; with one exception. The single group with the largest deviation was those interest mostly in Asian imports. From numerous past studies it should be apparent why this group is less likely to own a fleet of vehicles. Members of this group tend to be younger, less established in their careers and often attending school. In essence, they have less disposable income to spend.
Overall, the purpose of this study was to illustrate not just that enthusiasts are vehicle collectors, but that the numbers of vehicles in their collections do vary slightly between market niches.
Source: Fast Lane Research