Where Enthusiasts Prefer To Shop
When it comes to dress up parts and automotive accessories, nearly a third of automotive enthusiasts prefer to shop at an automotive parts chain store. On the other hand, when those same enthusiasts are looking for performance parts they turn to speed shops and tuners.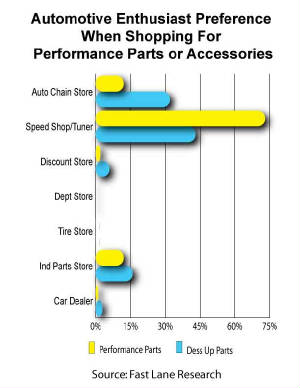 A survey launched in March 2010 by Fast Lane Research found that automotive enthusiasts have particular types of stores in which they prefer to shop. Interestingly, the type of store varies by the kinds of products they want to purchase.

Probably the most diverse category for automotive enthusiasts is tools and equipment. When they go shopping for these items they have no clear preference as to the type of store. The type receiving the largest number of responses was department stores.

Miscellaneous auto parts and equipment is similar to tools and equipment. But with these items the automotive chain stores account for 53% of automotive enthusiasts' preference.














| | | | | | | | |
| --- | --- | --- | --- | --- | --- | --- | --- |
| | | | | | | | Car Dealer |
| General Maintenance Items | | | 20% | 7% | 0% | 9% | 5% |
| | | | 17% | 40% | 0% | 13% | 1% |
| | | | 2% | 0% | 0% | 11% | 2% |
| Dress Up Parts & Accessories | | | 6% | 0% | 0% | 15% | 4% |
| | | | 12% | 5% | 3% | 18% | 2% |